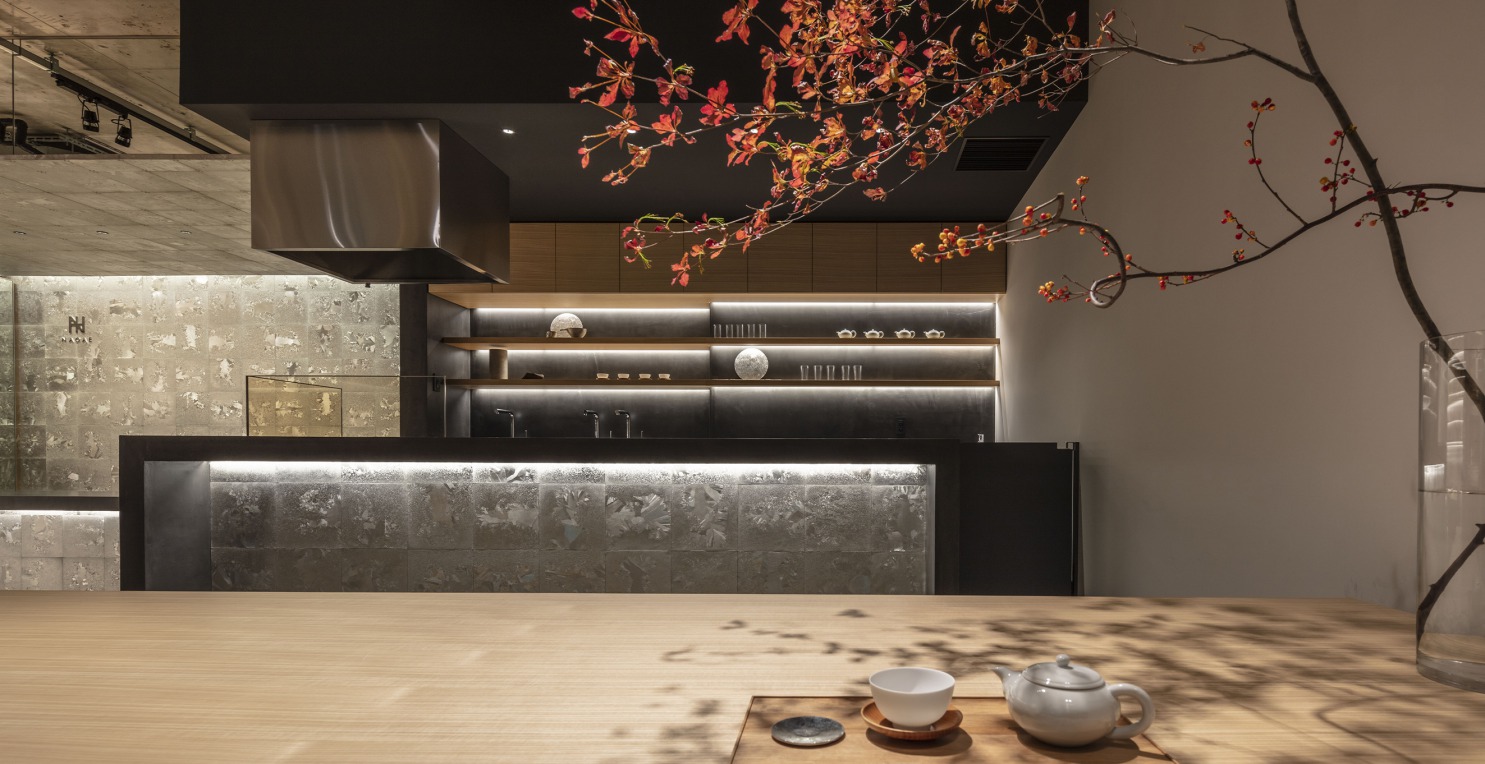 About
NAGAE+(ナガエプリュス)は富山県高岡市発祥の金属加工製品を中心として、2015年に立ち上がったライフスタイルブランドである。ブランドコンセプト「美という光で世界を輝かせる」を体現する初の直営店が、東京都渋谷区神宮前にオープンした。この店舗は商品を提供するだけではなく、「日本の匠が手がける上質なコミュニケーションプラットフォーム」を標榜し、文化を発信・共有するサロンの役割を担っている。実際に開店直後から様々なワークショップが開催されており、ギャラリー機能も併せ持つ。
複合商業ビル1階の路面店であり、オリジナルプロダクトを販売する物販エリアと、テーブルウェアの使い心地を味わえる飲食エリアから構成されている。ふたつの領域は緩やかに仕切られ、それぞれ落ち着いて過ごすことが出来ながらも一体感のある空間を目指した。物販エリアは商品をゆったりとディスプレイし、着席で接客が行えるカウンターを備える。飲食エリアは「小昼屋(こびるや)」と名付けられ、北陸の食材や日本酒を味わうことが出来る。語源となった「小昼(こびる)」は仕事の合間の小休憩や間食をあらわし、北信越東北地方に引き継がれてきた食文化である。ワークショップが行える大テーブルとスタンディングカウンターを設え、外部からも賑わいを感じられる。
また、この店舗のために結晶化した錫パネルが開発され、壁・天井・什器を彩っている。NAGAE+を象徴する素材である錫の新しい表情を生み出すため、試行錯誤を繰り返しながら完成した。親会社のナガエが持つ鋳造技術によって生み出された錫パネルは、和紙のように光を受けとめ、ダイヤモンドのように輝く稀有な素材である。
NAGAE+ (pronounced "Nagae ploos") is a lifestyle brand established in 2015 focusing on metal crafted products originating in Takaoka City of Toyama Prefecture. The brand concept "We Illuminate the World with the Essence of Japanese Aesthetics" comes alive in the first directly managed store located in Jingumae, in the heart of Shibuya, Tokyo. This store not only offers products, but also advocates "the experience of a high-quality communication platform created by Japanese master craftspeople," and takes the role of a salon which shares and promotes the unique culture. This store also functions as a gallery and has hosted numerous workshops and events since its opening.
The store is located on the ground floor of a commercial complex facing the street, and is divided into a retail area that sells original products and an eatery to try actual tableware. The two areas are divided in a subtle manner aiming to create a comfortable ambience appropriate for both areas while still retaining unity. The retail area displays the merchandise spaciously, along with a counter where service can be provided sitting down. The eatery is called Kobiruya, and visitors can enjoy local sake and dishes featuring ingredients from Hokuriku. The name originates from the word kobiru which means snacks or short breaks in between work, and it is a culinary tradition of the northern Shinetsu and Tohoku areas of Japan. Kobiruya is equipped with a standing bar counter and a large table perfect for workshops, and the excitement can be felt from the streets.
Another feature is the crystalized tin panels developed solely to ornament the walls, ceiling, and household goods of the store. Tin is the signature material of NAGAE+, and this new development underwent various trials and errors to create a new expression of tin. These tin panels, created with the foundry techniques of the parental company Nagae Ltd., is an unprecedented material that catch sunrays like washi (Japanese paper) and shimmer like diamonds.
Information
Year

2018

Designer

橋本 潤  前野 慧